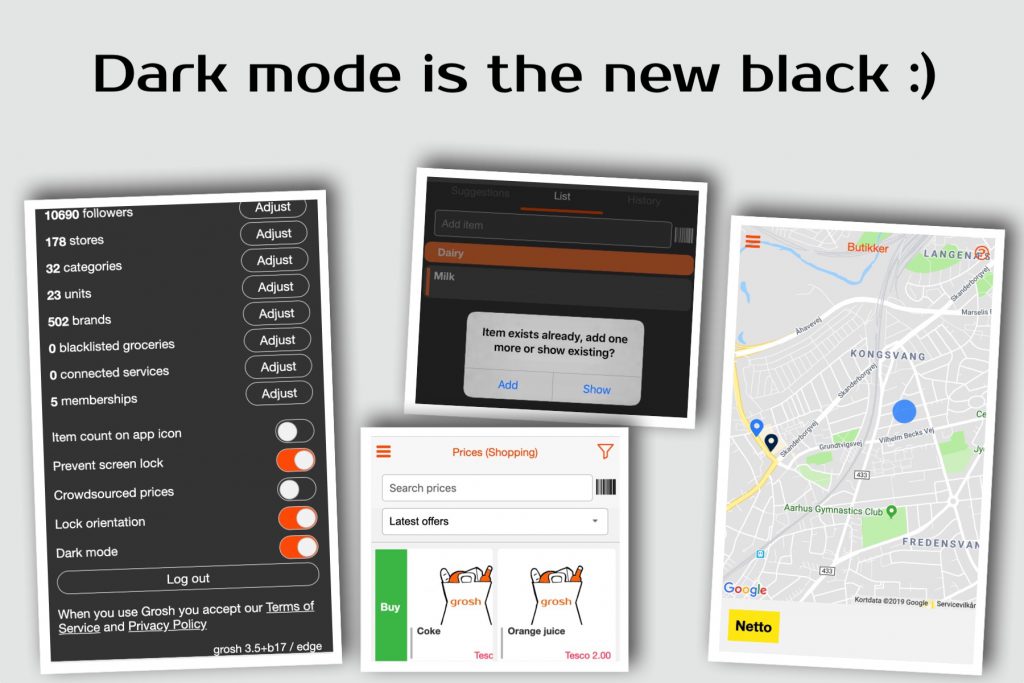 Grosh is the first dark mode shopping app. There's been a lot of hype about dark mode, and of course we also have a dark mode ready for Grosh 🙂 This and more is available in the latest update, Grosh 3.5 – read more below!

Dark mode
It's basically turning the styling on its head so what was dark is now light and vice versa. This not only looks nice, but it's practical in low light conditions. Our usual light colour mode is the default, but try to toggle dark mode on under Settings and see what you think!
Search list
Lists in Grosh have a field at the top that lets you easily enter new items for the list. But what if you want to find an item on a long list? This was actually hard until now, but now you just enter some text at the top and if there's a match to an item on the list, this is indicated with "(already exists)" on the dropdown list under the text field. If you tap the line, you will be asked if you want to add another item or just show the current item on the list. Problem solved 🙂
Barcode scanner improved in Stores
When you're at a known location for a store, it's indicated in the header as the store name is shown in brackets just after the list name. A few things are different when you're in "shopping mode", for instance the list gets sorted according to layout and you can left swipe an item to "hide" it and thereby declutter the shopping list.
Another new addition to location specific functionality is the barcode scanner button. If you scan in a store, it will "swipe" the matching item on the shopping list. If it's not present, it gets added to the shopping list history. Of course, if Grosh does not the barcode it will prompt you to enter name and brand. We're currently finding and loading public barcode databases, so we hope this function will work even better soon!
Stock lists (premium) now with own categories
Based on user input, we've refined the stock lists in Grosh. Before you could have no categories or grocery categories. We've added a third option: own categories that are specific for the list. This lets you define completely new categories for eg the freezer, bookshelf, box of light bulbs etc.
Looking at the stock list just got much better, as things are now grouped together just as you would like them to be 🙂
View store locations (and soon opening hours)
Ever been to a new place and did not know where the nearest grocery store was located? Not a problem anymore with Grosh. Menu – Stores will show your current location (blue dot) and the stores around you with the nearest one highlighted with a blue marker and store information for it at the bottom.
Store locations are crowdsourced by our Grosh users – when several users have marked the same location as a specific store it will get included on the map. Our users don't collect opening hours yet, but we're planning on including this and other store information in the future in the app.
New faster prices and benefits screens
If you collaborate in price crowdsourcing, you will notice the updated prices screen. We've moved text under the image to get a more clear view, and you can now also swipe directly on the list to add the item to your shopping list. Searching is now faster, and also looks in brand names.
Other smaller changes & fixes
Improved membership card screen (nicer layout and brightness turned up while you display it)
Toggle for orientation (under settings) to keep Grosh from changing appearance when you tilt the phone.
Menu now works well on smaller screens
History screen now shows a house icon for trips marked as not-a-store
And lots of bug fixes!
We hope you enjoy this update of Grosh. Keep your feedback coming by sending a message to feedback at groshapp.com 🙂
Kind regards
The Grosh Team