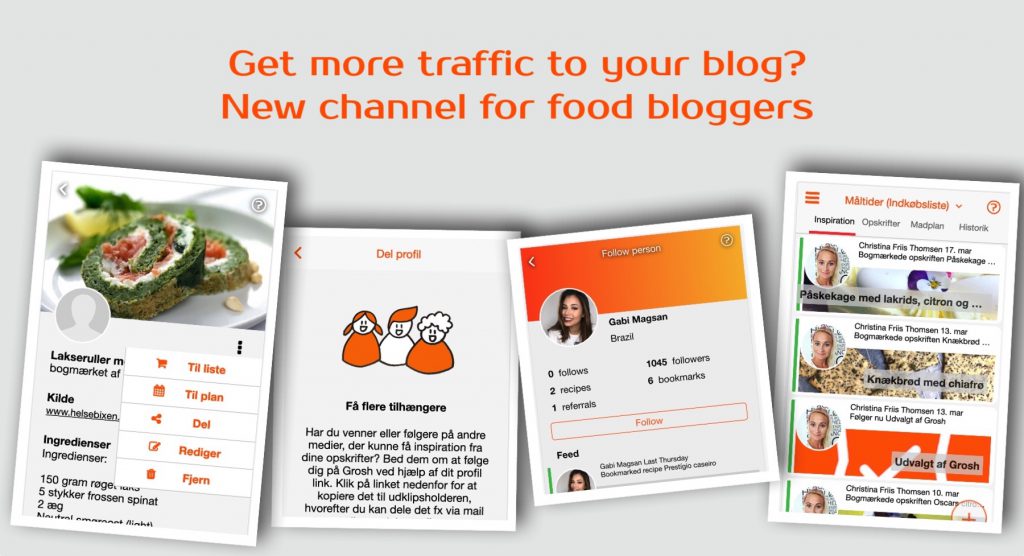 How do I get more traffic to my blog? The challenge for all bloggers is the same, to produce great content and build an audience as large as possible. The first part is totally up to you, while the latter can be achieved through various partnerships. If you're a food blogger, there's now a great new opportunity that requires minimum effort on your side to get free traffic to your site: Grosh – the recipe and grocery shopping app.

What is Grosh?
Grosh is an app aims to give everyone inspiration on what to eat, and at the same it aims to innovate grocery shopping. The app is independent of retailers and has the ability to understand your shopping habits and proactively tell you when you're about to run out of something. With Grosh you get fewer trips to the store, and more control of your daily grocery shopping.
Meet our social network
Over the past year, we have been busy expanding the app from just a grocery shopping app into a social network focused on cooking – because we all know cooking and shopping are connected! The app is now ready with all basic features for our social food network:
Create a free profile and add recipes (either as private or public)
You can search for friends, acquaintances or familiar faces in the app and "follow" them
All users have an inspiration "wall" where you see recipes related to those you follow, along with user profiles that those you follow have begun to follow
You can add a picture and tag to your profile (eg Food artist and author of several cookbooks)
You can link your Grosh profile to Instagram, your own blog etc, so you can also get traffic and followers there
You can easily share your profile and recipes on social media from Grosh. They will appear with picture and title and can be clicked to let the user read the recipe in its entirety.
Get VIP Benefits
If you're a food blogger, we would very much like to bring you onboard. We're giving you VIP status and try to make it easy and attractive for you to use the app:
If you give us permission, we can set up synchronization of recipes from your website so you don't have to lift a finger to keep your followers in Grosh updated
We make sure to expose you to the Grosh users speaking your language and in all the PR we're doing. This means we give priority to your recipes when selecting recipes that Grosh shares weekly on the social media and to all Grosh users inside the app. Your Grosh profile is included upcoming newsletters for Grosh users, in our press releases, etc.
Jump aboard!
We're a startup with limited means, so we cannot offer a lot of money, but hopefully we can provide you with a good tool. At the same time, we believe that we can provide you with more followers and a natural place for your existing followers to easily access your recipes. We are super-responsive and very much welcome input for how we can better shape the social network. So you can help shape the future by joining the project!
If you've signed up in Grosh, please let us know which email you used, so we can start promoting you for free!
Kind regards
The Grosh Team
PS You can learn more about our social network in this blog post https://groshapp.com/social-food-network/