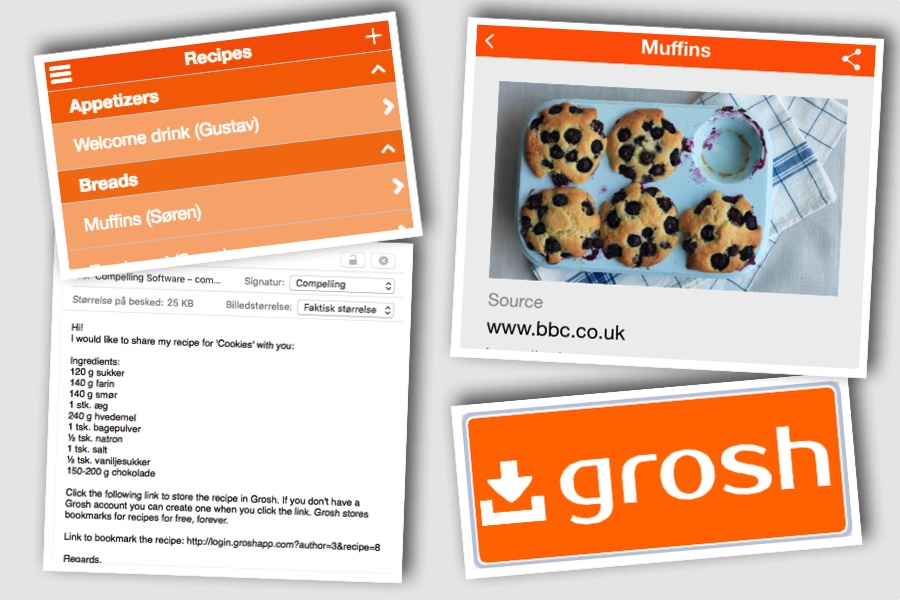 How do I get more traffic to my blog? The challenge for all bloggers is the same, to produce great content and build an audience as large as possible. The first part is totally up to you, while the latter can be achieved through various partnerships. If you're a food blogger, there's now a great new channel for you to get free traffic to your site: Grosh – the intelligent grocery app.
What's Grosh?
Grosh lets families organize and make grocery shopping more effective. It learns the habits of the family and suggests items you probably need to buy before you even notice it yourself 🙂 But Grosh does more! Your favourite recipes are often spread across cooking books, scribbled notes, cooking blogs, recipe websites or apps you use etc. Grosh lets you index all of your cooking recipes in one place. As an added bonus, ingredients of the recipes can be added with one tap to your shopping list.
Get discovered by new users
With a Grosh account, you can create links to your website and make your content visible to thousands of Grosh users. Users can search for recipes published in Grosh in their own language, e.g. a US blogger blogging in English can be discovered by all users who selected English as language. This creates a good opportunity also for bloggers in niche languages to reach their own audience. Grosh supports 17 languages, with the majority of users currently using English, German, French, Danish and Swedish.
Get traffic to my blog
A summary of the recipe is shown in Grosh together with a link to your website. The link opens a web browser on the phone/tablet to view the recipe in full on your website. So publishing on Grosh generates traffic for your blog!
Make your blog mobile
Not a lot of bloggers can afford to publish their own food blog as an app. With Grosh, you get a free "recipe app" for your blog:
No development costs to get the app in the air
No integration cost in order to sync blog data into the app
No maintenance cost to keep it up latest versions of mobile phones etc.
The app is non-exclusive, so your blogger competition could also use the app. However, you could be the first to appear in Grosh. At Grosh, we help bloggers get onboard on first come – first served basis.
Save in Grosh
There's also a "Save in Grosh" button like the one shown here that you can include on your website next to a recipe.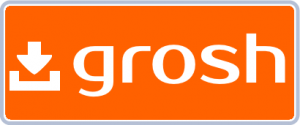 This allows the users to seamlessly store a bookmark to your recipe in their private collection of bookmarks without typing. It just requires the user to setup a free Grosh account (if they haven't got one). Or just sign in to their account (if you haven't used Grosh in their web browser before).
Viral sharing of your recipes
The Grosh users can seamlessly share recipes to friends and family. By default, bookmarked recipes are shared with everyone in the household. By entering the email of a friend, a recipe bookmark can be shared outside the household. This means popular recipes can be spread from your Grosh account to other Grosh users and from them to other users.
When Grosh sends an email with a shared recipe, there's a "Save in Grosh" link similar to the one on your website. It means the recipient can easily store a recipe – and easily continue sharing it to other users.
How to get started
Here's how to get started getting traffic to your blog via Grosh:
Contact the Grosh team to get our brief 1 page agreement
The Grosh team can then help you setup a Grosh account with the name of your blog, import bookmarks to the recipes of your website and help you get "Save in Grosh" buttons on your website
If you're a food blogger and think this sounds interesting, keep your eyes on Grosh. We're publishing frequent updates and have lots of other things underway related to recipes and meal planning. And please send us your inputs and thoughts on what you think we should be doing 🙂
Kind regards
The Grosh Team
Here's a few other articles related to recipes in Grosh:
Organize and always have access to your recipes