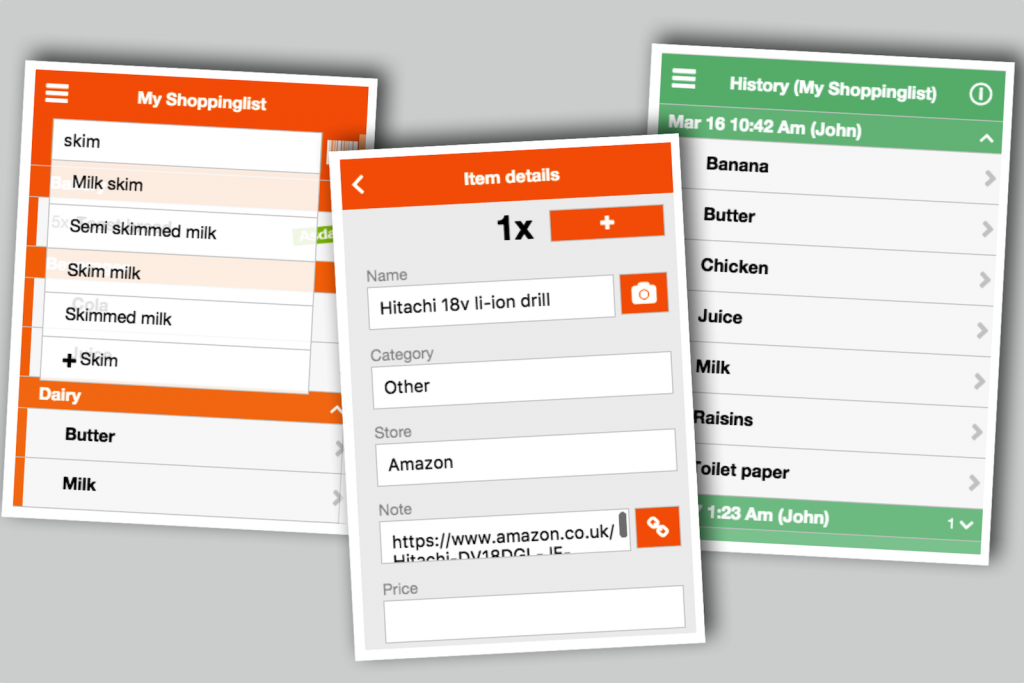 You probably know the situation, you've found something on the Internet you would like to buy – but not right now. Perhaps you'd like to compare some prices. And finding the exact same item later is hard, as there's various places where you might have stored the link on different devices. With the the latest update to Grosh 1.9 – the intelligent shopping app – this has been made easy. Just open a new tab in your browser with our webapp and paste the website link and Grosh will store it for later use.
Grosh being used for online shopping
Grosh is a shopping app that crowdsources lots of things, including the list of stores you can tag items with. Lately, we've seen various online-only stores being added. It turns out more people are starting to use Grosh as a place to store what you're intending to buy on the Internet.
Bookmark webpage using shopping item
Based on this, we've just made this process a lot easier. In our webapp available at https://login.groshapp.com, just enter a link to the webpage in question at the text field at the top. Grosh fetches the page and extract a title and inserts the url in the note field. If Grosh knows the store, it will also automatically insert the store name. After adding an item via a link, the item details screen is automatically shown so you can verify and supplement the information extracted by Grosh from the site.
Typical scenario:
Create a non-food shopping list in Grosh (turn off "use food categories" under settings)
Surf the internet for what you're looking for
Bookmark webpage using Grosh and e.g. supplement with total price including shipping
When done, review the collected offers and buy the item at the best place
Mark item as bought on your list and remove other items
Later on, you'll have a purchase history to find out where you bought what at which price in Grosh 🙂
Showing stored link from Grosh
You can add links to an existing item, just enter a link in the note field. If a link is present in the note field, a button appears next to it that allow you to open a webpage showing the item.
Simpler navigation to history
Previously, you 2 finger swiped to see the list of trips, then selected a trip and could see the items on a separate screen. This has been combined into one screen to make navigation simpler in the app. You can still left swipe to undo a purchase that you did not perform, or right swipe to buy same item again. If a trip is expanded you can see an info icon appearing top right. Tap that to see or specify the store and total price of the trip.
Improved search in dictionary when adding items
Previously Grosh did a prefix search as you typed in the text field at the top of the current list. It now does a full search. Example: if you typed "skimmed m" it used to find "skimmed milk" but not "milk skimmed". It now finds both variants.
Improving data quality
When adding items to a list, you can easily find items with the same meaning. To avoid this, we're cleaning out the grocery dictionaries so everything has the form "grocery name" + "adjective" e.g. milk skimmed. But as we're using full search you can just start typing "skimmed m" and see a match for "milk skimmed" and tap that. To keep the system tidy, we've also introduced a check for synonyms. This means you can no longer add a new product if a synonym product exits.
Besides making the list of items shorter when adding new items, the clean up has other benefits such as enabling us to provide insights into the most purchased items etc. This will become available in upcoming versions.
Other minor changes
When searching recipes, you can now bookmark a found recipe to store a link to it in your own recipe list (previously only possible if the got the recipe via an email-link)
Barcode scanning: You can now supply the amount of items that should be added to your shopping list when scanning an item + set the category of the item
Spell corrections are now applied to global grocery list gradually (misspelled items are cleaned out when few use them)
Only list owner can remove people from shopping list (not an invited user)
More efficient refresh of screens makes app faster
What's next?
If you enjoy using Grosh and would like to support ongoing development, please consider upgrading to Grosh Premium which will become available when we ship Grosh 2.0 shortly. All funds from the upgrade will be used for product improvements and operations.
You can have a sneak peak at two of the upcoming premium features now. When creating a new list you can now specify a type. Besides "shopping list" you can select
Wish list: Create wish lists for birthdays, weddings etc. Share the list so family and friends can see that you wish for and to avoid identical gifts.
Stock list: Create a stock list for items in the freezer etc to specify what is on stock and to avoid overdue items or double purchases.
After selecting the type and entering a name for the list, a short intro guide tells you a bit about the features. These two list types are currently in beta testing and will be available when we release the premium version of Grosh.
And please keep sending us your inputs so we know what you would like us to improve 🙂
Kind regards
The Grosh Team