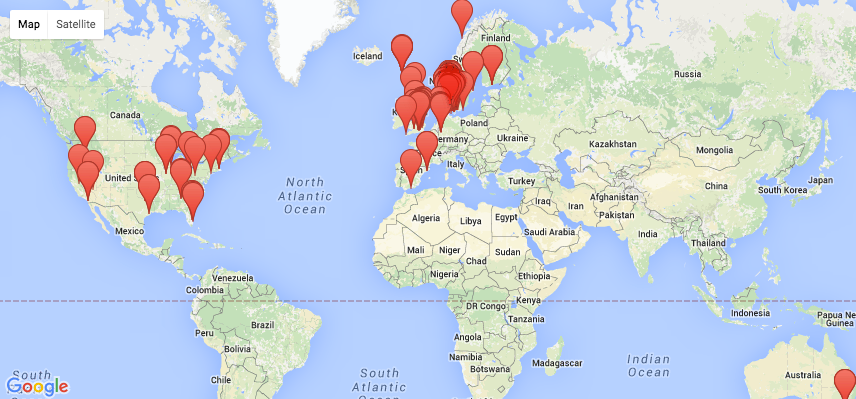 Unlike any other grocery app, Grosh was built with support for more languages from day 1 and to be a truly global grocery shopping app. Read more about the status below.
Users across the world
After the initial two weeks, we can see our users shopping with Grosh across the world. The map above shows cities where Grosh has been used for grocery shopping until now. We hope to get more press coverage and that users in more countries will discover Grosh, so stay tuned and we will report back on how it goes!
Please like or share our posts or pages on social media to help spread the word!
Grocery app user interface
When Grosh launched some weeks ago, we started out with our user interface in 7 major languages: English, French, German, Italian, Polish, Portuguese and Spanish plus Danish for our home country :).
The app looks at your phone settings in order to pick the right language for the user interface. If your phone language is different from the ones listed above, the app defaults to English for the user interface.
Groceries
We initially support storing groceries in additional 2 languages (Norwegian and Swedish), making up a total of 10 grocery languages. For each grocery language, we load a standard directory of commonly used grocery items and their category. Additional grocery items are crowd sourced from the users, so when many users add the same grocery item, it will wander into the common standard directory of groceries for the language.
Stores per country
In addition, we initially loaded the most common store names of 22 countries (Argentina, Australia, Austria, Belgium, Brazil, Canada, Denmark, France, Germany, Ireland, Italy, Mexico, Netherlands, New Zealand, Norway, Poland, Portugal, Spain, Sweden, Switzerland, United Kingdom, United States). The system crowd sources store names, as it is extended when several users start adding a store with exactly the same name. The store names makes it possible to tag an item for purchase in a particular store, and by tapping the store tag, the list can be filtered / unfiltered for the store.
New kid on the block
Upon request, we have added a new grocery language Faroese for our friends in the northern Atlantic, and added the most common stores in the Faroese Islands too, just select this under Settings.
Are you next?
Grosh is only available in Appstore and Google Play in the countries we add support for in the app. Contact us if you are missing a grocery language or country support!
Kind regards
The Grosh Team
PS If you stumble across any spelling mistakes, please let us know so we can make the app even better in your language.