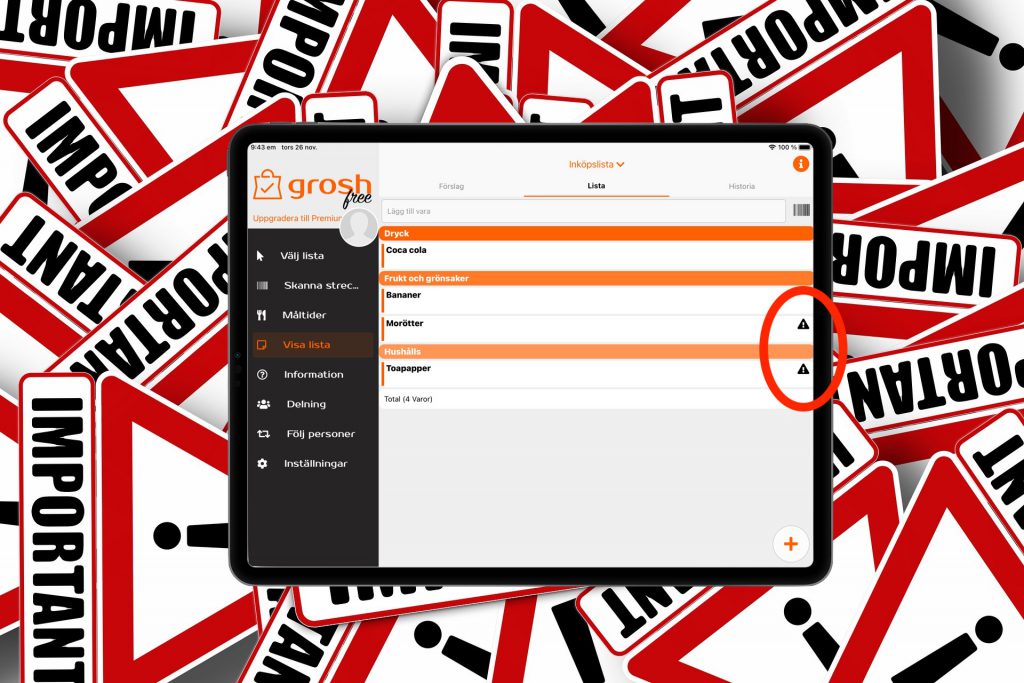 Know how you're short on time and only want to shop the important things at the store? This is now supported in the latest version of the intelligent grocery app Grosh (version 4.3).
User driven development continues
With Grosh 4.3, we continue to let the users inspire us how to improve the app. With our new generation of Grosh, we have a much shorter turn around time from idea to shipped software. So just keep your ideas coming and help us keep Grosh as the most innovative and well-thought-through grocery app 🙂
Important things first
You can now mark items as important – on item details, tap name field to reveal extra fields and the new Important toggle switch. A triangle with exclamation mark icon is shown on the list for important items. If you tap the exclamation icon, the list is filtered to only show important items. Tap again, and the entire list is shown. Very similar to how you can tap store tags to filter the list to show items for that store (along with items not tagged for a particular store). From now on, it's easy to just focus on the important things!
Other changes
Better use of screen real estate on detail pages (images go all the way to the top)
Two landscape modes for tablets (select which one to use under Settings)
Recipe search ensures your own recipes get listed first
Improved auto-sync
Faster startup, intro page does not flash by before showing list
Fixed amount reported after adding to stock
Fixed prompt to select store when at a location with many purchases
Icon badge support on iOS*
Improved vertical scrolling on Android (fewer accidental swipes)
*) If you turn icon badge on iOS, the app will prompt you for permissions to set the a badge on the app icon. The badge counter is set when you bring the app to the background. The number corresponds to the number of unbought items on the list
Kind regards
The Grosh Team
PS If you run into any problems or have questions about Grosh, you can always send a message to support at groshapp.com