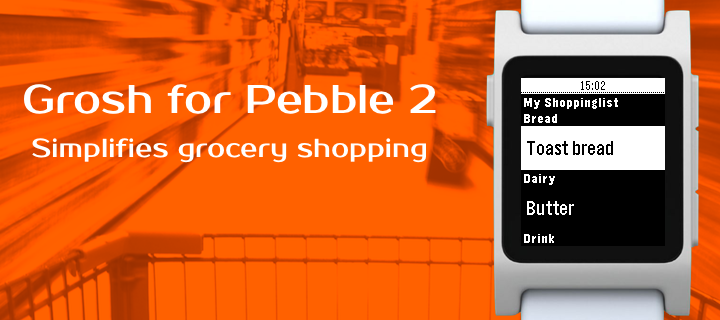 We're all sad Pebble has seized to exist as a company, but the million of users are still out there. So of course, Grosh continues to support Pebble! Grosh for Pebble version 1.4 now also supports the last Pebble model made, the Pebble 2.

Several Pebble 2 users have requested that we update our watch app to support their watch. One of the things that did not work properly was dictation. That's now fixed by the new version which officially supports Pebble 2.
We've also re-worked how sorting works in the app: It now sorts the categories alphabetically when you're home and by the store layout when you're at a store. The sorting is now identical to the one you see in the phone app.
Kind regards
The Grosh Team
PS We've gotten a fair amount of requests for Apple Watch lately. Our Grosh for Apple Watch app has been on hold for a while due to resource constraints. However, due to the interest, we're planning to wrap it up in the coming months. It's going to be available to our users who have upgraded to our premium offering.
If you enjoy using Grosh and would like to support ongoing development and keep Grosh ad-free, please consider upgrading to Grosh Premium which will become available shortly. All funds from the upgrade will be used for product improvements and operations.