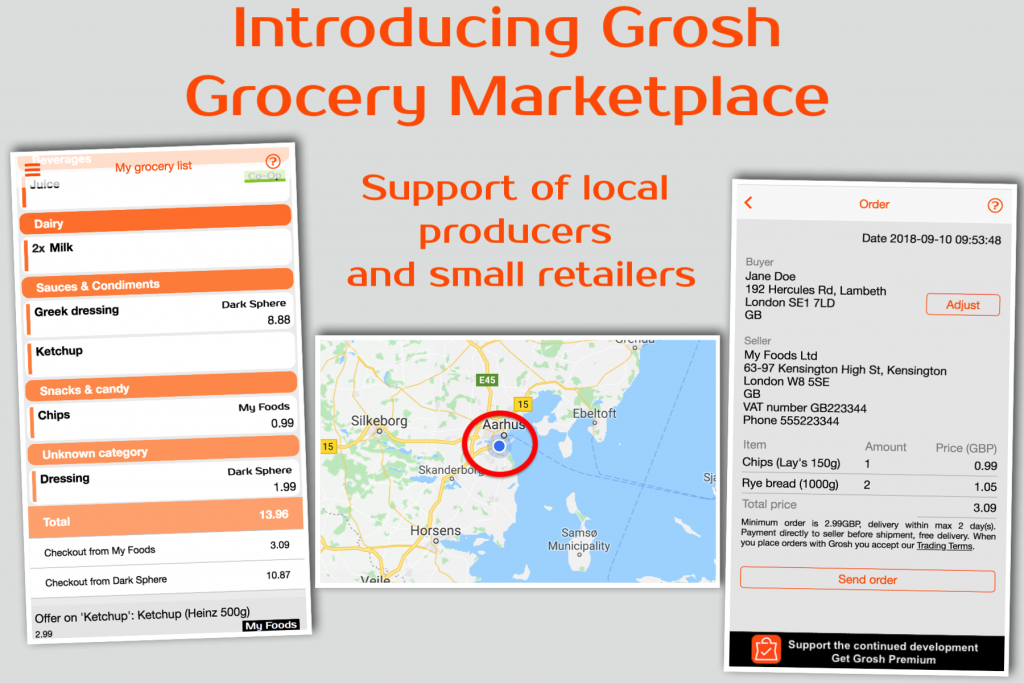 Until now, the Grosh shopping app has focused on making you more effective when shopping groceries in physical stores. With Grosh 3.1 we open up Grosh to become a grocery marketplace that also lets you order groceries online.
Solving The Hen and Egg Problem
Launching a marketplace is always tricky. How do you attract sellers if there are no buyers yet? Who wants to be a buyer in an empty marketplace? It's the hen and egg problem.
As most Grosh users have found out, Grosh does not try to be like other grocery shopping apps. Our strategy has been to deliver a grocery shopping app in its own league, and build a strong following of users who see the benefit from using the app for all their grocery shopping. This gives us a stepstone when launching our marketplace – a loyal existing user base that merchants can offer groceries to from day 1. Thus fixing the hen and egg problem.
Who can sell on Grosh Marketplace?
To begin with, we want to attract local producers and small resellers. We believe in leveling the playing field, to give everyone a fair chance to compete. Small merchants may not have the knowledge, time, or money to set up a webshop. That's why we're offering them to have their own corner inside the Grosh app – for free. A secondary objective is to encourage buying locally to reduce transport and impact on the environment.
How can I order online?
We've built in access for ordering online in the app. This means that the minute a new merchant has been approved to serve our Grosh users in a market, the items become available for the users running Grosh 3.1 or newer. Now that Grosh 3.1 is launched, we're starting to bring merchants to our platform.
Offers that apply to your area can be seen by tapping Offers in the menu. If there aren't any offers yet for your area, there's no Offers menu item. The sellers can choose either to
offer groceries locally – with free delivery within a range from the reseller
offer groceries nationally – with free delivery within the country of the reseller
One app and one list for all grocery purchases
Grosh gets smarter on your grocery purchases the more you use the app. Using Grosh for all your purchases, no matter what store you're buying from lets Grosh do automated inventory tracking. As consumers start to buy groceries online, it's only natural that we start supporting online purchases.
Previously you could tag an item with a store name / price on a shopping list to remember a good offer you want to take advantage of. When ordering online, you shopping list is still your place to put what you need to buy.
You may choose to browse the online offers, and swipe to add them to your shopping list tagged with store and price. Or even more clever, you may filter online offers only your show offers matching your shopping list contents. Again swipe to mark an item with store / price on your current list.
Easy checkout
When you've got items on your shopping list marked with a store that offers online shopping, a checkout button appears as a subtotal line at the bottom of the shopping list.
Tap checkout to get a preview of your order. If it looks ok and the ordered sum is above the minimum purchase limit set by the retailer, you can submit your order. The first time, you need to set up your delivery / invoicing address. In addition, if you are going to pickup the order and the seller has several branches, you will also need to select the branch and time for pickup. After that, you may order using just 1 click.
Payment & delivery
Once the retailer has received your order, accepted it* and begun processing of it, you will get a payment request from the retailer using a payment method used by the retailer. Normally, the retailer will use an electronic payment app for this (PayPal, MobilePay, Swish etc). After payment is completed, the order is delivered directly to the specified address by the retailer or a delivery company. Grosh is just a marketplace that lets buyers and seller connect, we're not handling payments nor are we involved in any order handling.
Other changes
Forgot your glasses? Just put phone horizontally to get bigger text
If you share the app to friends, you earn credits**
User made aware of new version in appstore (for users without auto update)
Ukranian and Hungarian is now fully supported
All mails from the system now translated in major languages
Messages from Grosh team only shown once (see old ones in Menu-Information)
Shopping suggestions now shown as soon as available, otherwise most bought items for language is shown
Improved copy ingredients to shopping list
Show current count on list after scanning an item
Facebook login now works when logged in from multiple devices
Select list has icon next to list name to make selection easier
App switches to correct language after login
and many many more minor fixes and enhancements
We hope you enjoy the improved version – and that we get retailers signed soon so that you can start using our ordering capability.
If you're a retailer interested in joining the market place, you can learn more about it here: https://compellingsoftware.com/grocery-marketplace/ (English) or
https://compellingsoftware.com/mad-marked/ (Danish)
Kind regards
The Grosh Team
*) Grosh can do stock management to ensure retailers don't sell items they don't have on stock. However, retailers may sell groceries without the use of Grosh. Under such circumstances, the retailer may have to decline your order. You will be notified by Grosh if this happens.
**) Users entering an invite code sent by you will be attributed to you. We're tracking your credits for now, but we will be offering ways to spend you credits in the future. You will also be able to earn credits in more ways when you help acquiring new users and contribute to making Grosh better 🙂