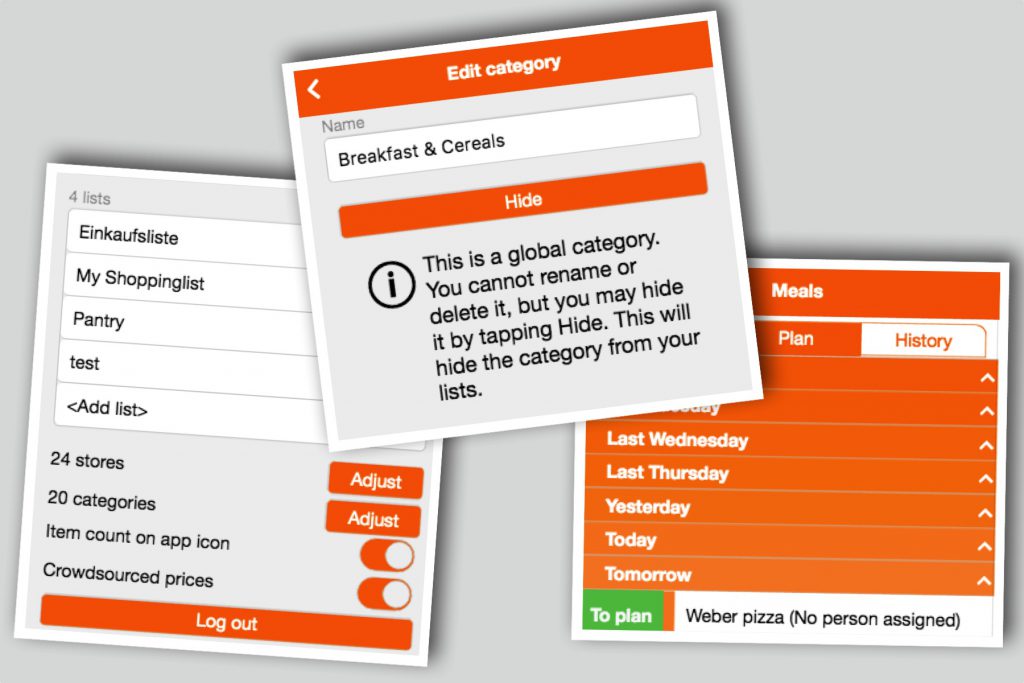 From the outset, Grosh was intended to operate in many countries and languages. Unlike other grocery shopping apps, it's centred around crowdsourcing of all grocery shopping relevant information. It collects grocery names, store names, grocery prices, and a lot of other information. We've learned a lot since we launched. One of the lessons is that we needed to adapt even more to cater for national differences. Read on what the changes in Grosh 2.2 consists of.
Add your own categories, hide ones you don't use
Grosh was born with a fixed set of categories, which were used by Grosh to map store interiors. This clever and unique feature in Grosh allows users to get their grocery list sorted when entering a store.
However, some countries have larger stores with need for more categories / ailes. We're now taking the consequence of this and have changed how categories work. You may now add or hide categories as you see fit. When we see that a number of users create the same category for a language, this will migrate into the global list of categories and will be used to map store interiors. This way, categories now operates just like grocery item names and store names. Especially our American users have asked for this feature – and here you are!
Add your own groceries, hide ones you don't use
Grosh has crowdsourced grocery names from day 1 – which is great as the system has learnt thousands of grocery names in over 20 languages over a short period of time. However, sometimes you might spot a spelling mistake, e.g. when adding an item. To fix it, now just add the item to your list and correct the spelling. You'll be asked if you were correcting a spelling mistake and tap Yes. After this, you will not see the spelling mistake anymore. The system learns from your actions, and if others do the same, the misspelled item is removed from the system. Learn more in our FAQ.
Adding photos
Grosh lets you add a photo to a recipe – but how do you add a photo if you're not making the meal as you're adding the recipe to Grosh? By allowing you to access the camera roll, of course. Now you can just long press the camera button to access the camera roll.
The same applies to Premium users that may add a photo to their shopping list items.
Improved meal plans
We've tweaked a couple of small things here:
Swipe right on current plan to copy meal (e.g. when setting up plan for next week)
Swipe right on history copies day of week (to make it easy to add a meal to the same day of week using the history screen)
Upgraded to new version
A lot of our users see the info bubble that appears when the app has been upgraded. But they never get around to visit the website to learn more on what's changed. It's now a bit easier, as the app shows a "visit blog" menu item right after the upgrade. It will lead you directly to the blog post on the new version.
Other updates
We've fixed various bugs, amongst others:
Slow barcode lookup
Webapp should warn if ad blocker active
Some lists do not show photos
Sort button not always available when many trip in area
Item prices should not be shortened if small
Settings screen re-arranged and more manageable
Tap header to pick list, now shows no of items per list
Wish list now sorts from / to names alphabetically
Sorting not based on latest trips
Sorting shows store even though no majority of trips there)
Change list should clear store filter
Barcodes numbers should be grouped for easier reading
Improved Polish and French translations of app
No image shown when image had been uploaded on one of your other lists
Learns to auto set store when user sets store for items with url
Meal plan should refresh when update / delete in next week
Delete store you've just created
If there's something else you're missing, let us know 🙂
Kind regards
The Grosh Team
UPDATE Sep 8 2017: Version 2.1.1 was released today – the only change is that we're moving to another ad banner provider.