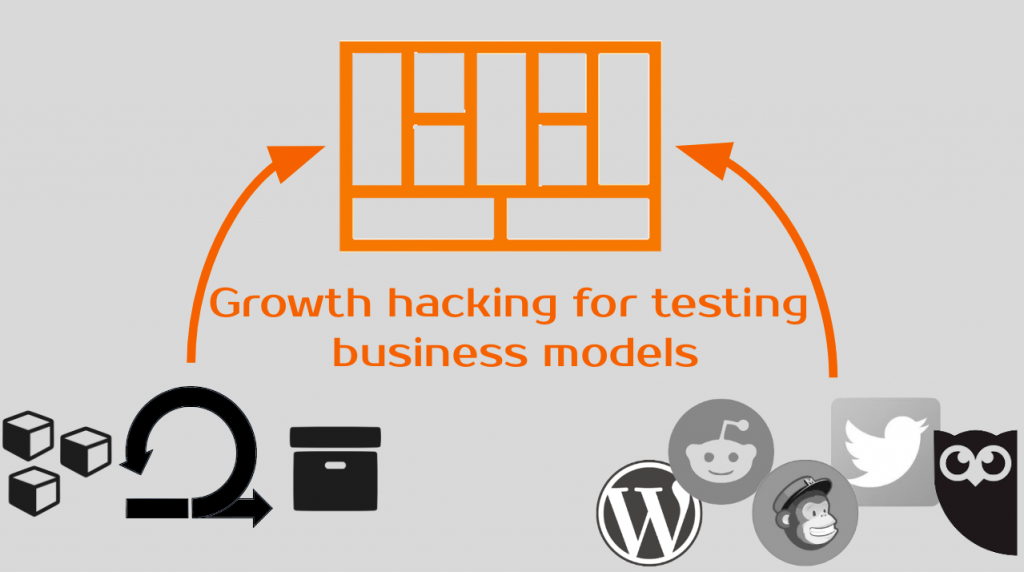 Ever heard from investors to stay focused and know what your business model is? Being a tech startup means you've just started and most likely don't know what your business model is yet! So that's why you need to do growth hacking!
What's your business model?
Back in the days, we had 30 page business plans. Then came more lean concepts, e.g. capturing your business models in a compact one-page canvas format. Whatever format, the business model describes
what your offering is
to whom you're delivering this and
how you monetize this
However, many tech startups have a vision of what they're building and the benefits the product brings to the world. If not, that's something you should be figuring out. But there might be several audiences / markets for the product and most likely several ways per audience to monetize it.
What is growth hacking?
The interaction by innovative marketing techniques and product features have lead to high growth for many tech startups in the past. The term Growth hacking was coined by Sean Ellis (first marketer at Dropbox) and is today often defined as
Growth hacking is a process of rapid experimentation across marketing channels and product development to identify the most effective, efficient ways to grow a business.
Growth hacking is not just marketing
I attended a seminar last week about growth hacking, and noted the Growth Hacking definition during a presentation by Thomas Madsen-Mygdal (founder of Podio). Growth Hacking a mix of marketing and product that suddenly generates high growth, a mix that's unique for every tech startup.
Many blog posts about growth hacking focus on how to use marketing tools or PR stunts to get the attention of media resulting in user growth. What they are missing is that experimenting with your product is just as important. Maybe the feature set needs twisting yet again for it to encourage spreading your product and get user growth.
Growth hacking and business models
Back to the subject – to know your business model, iterate until you have a combination of product and marketing that generates sustainable growth. Then you can tell your investors what the business model is!
So here's what you should do = Growth Hacking
Experiment with your product features set
Experiment with your marketing / monetization
For both, measure what seems to work and keep doing that – failed experiments tells you what you shouldn't be doing right now.
Regarding monetization, you might need to do real-life experiments, as what people say and how they act seem to be very different in my experience. A person might say he likes the product and it's great value for money, but when it comes to acting it's different.
Here's some monetization experiments to consider
Freemium – Premium: Can you convert loyal users into paying customers?
Data – Do you collect data that is worth selling in aggregated / anonymized form?
Whitelabel – If you're doing a B2C product, there might be a B2B variant of your product that you can sell to other businesses?
We're experimenting right now in my latest startup Grosh – the intelligent shopping app, see eg. our white label and premium offering. More posts will follow on how it goes 🙂
Kind regards
Søren,  founder of Grosh
Other relevant growth hacking articles:
https://en.wikipedia.org/wiki/Growth_hacking
http://www.startup-marketing.com/where-are-all-the-growth-hackers/
http://www.cmo.com.au/article/609523/marketers-green-light-growth-hacking-techniques/
https://www.entrepreneur.com/article/276641