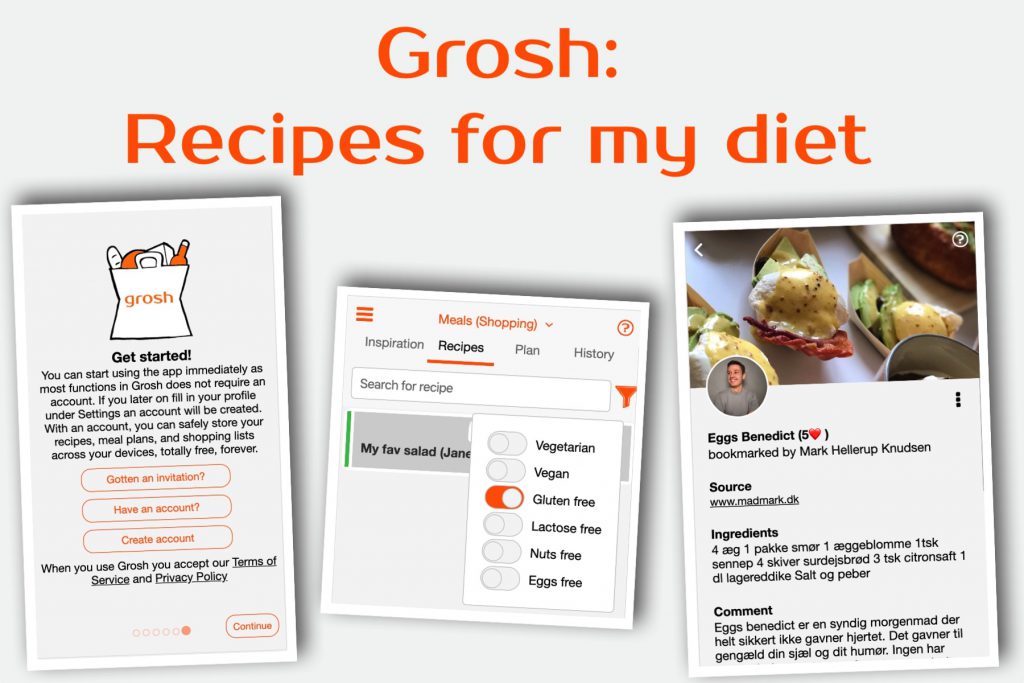 We've been hard at work to improve how recipes work in Grosh for people on a diet. We've also changed how users onboard, so now you can use almost all functionality before deciding to create your free account. This and more is available in the latest update, Grosh 3.7 – read more below!
Are you on a special diet?
We've improved how you describe a recipe in Grosh. Previously you could only assign a category such as main course, desert and the out-of-place categories like Vegan and Vegetarian.
We've now introduced the concept of diets on top of the categories, so now you can register a main course that's vegan 🙂 And the big four allergies (nuts, gluten, lactose, and eggs) have been added as diets as well.
In the recipes list, you can also filter recipes for a diet using the new filter button to the right of the free text search field.
Note, you can register multiple diets for a single recipe. This means a recipe can be tagged both vegan, vegatarian and gluten free, for example. This also applies to the recipes list, so you can now filter to find recipes that include several diet conditions. And use the search field to search within the chosen diets 🙂
Update your recipes
We've moved all previously entered vegan and vegetarian recipes into the main dish category and assigned the vegan and vegetarian diet to them. We encourage our users with special diets to visit their recipes and update them, so others can find them using our new diet feature.
Recipe likes ❤️
When you open a recipe to check it out, you can now also see how many "likes" it has. This is based on how many users that are referencing the recipe.
Try out most features without having an account
Grosh now lets you start using the app without an account. You just swipe through the intro screens after downloading the app and presto, you're in the app! If you later on decide that you want to keep using Grosh, we encourage you to create an account by entering your name and email under Settings. It's that easy!
Once you've finalized your profile under Settings, the last couple of features of Grosh becomes available. We've decided not to let users publish anything with an anonymous profile, so if you want to share something, e.g. a recipe or shopping list, then you're required to do this.
If you already have an account, you should just login to that as usual.
Improved wish lists
Check out our separate post about better wishlist coordination in Grosh Premium and the Fromto app.
Other smaller changes & fixes
Support for iOS9 (old iPad and iPhones)
Updated Android app to avoid "Application error: The connection to the server was unsuccessful"
Menu shown on initial startup (to show available features in app)
Simpler selection of not-a-store at location with many stores
Stores map better handling when no location available
And lots of other small fixes!
We hope you enjoy this update of Grosh. Remember to email your inputs to feedback at groshapp.com 🙂
Kind regards
The Grosh Team