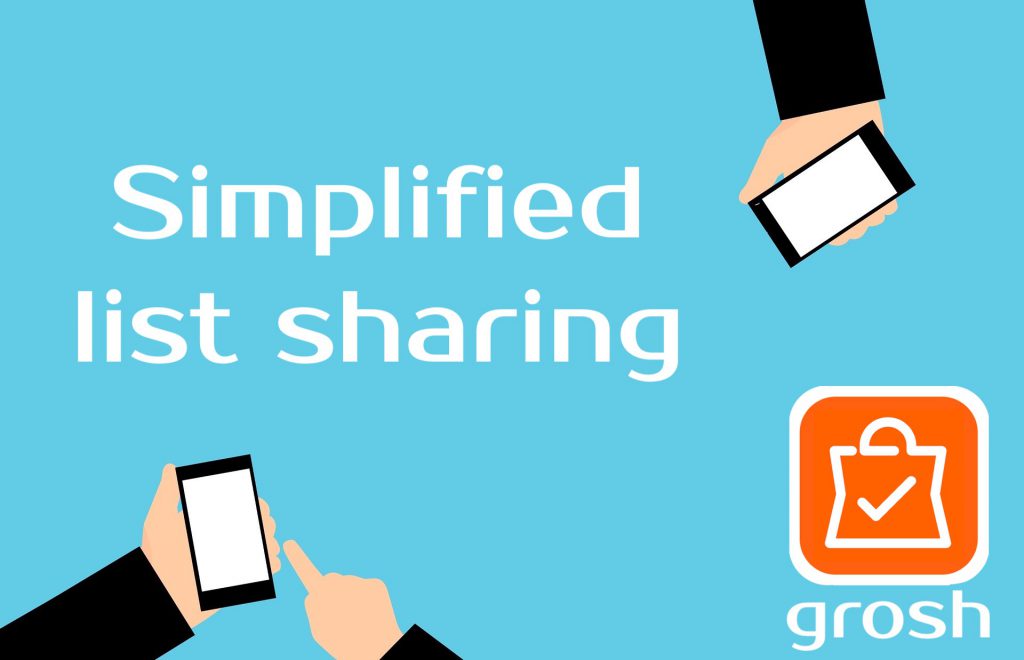 The grocery shopping list app Grosh just had another update in version 4.12. Sharing lists is now simpler than ever before. In addition we've been polishing recipe support for scaling, and we're introducing a brand new webapp. Read all about it below!
Simplified sharing
Apart from a simple way to add and mark items as bought, simple list sharing is essential to any grocery app. With the updated version, we've simplified how you do sharing. Here's how it works now:
To see who you share a list with, tap Menu->Sharing.
To share the list with additional users, tap + and select if you want to share the list contents or give online (full) access to the list using the Grosh app.
Finally tap Send by email or Send by SMS to send either the contents or an invitation code.
Also, it is now easier to enter an invite code as a new user, you do it straight on the intro screens.
Direct recipe scaling
When you enter a recipe, you can optionally enter how many persons can be served. If this has been defined, it is simpler to scale it.
Whenever you look at a recipe, a persons field appears and lets you edit the persons you want to serve, and you can thus easily see the ingredients required when preparing the dish.
If you add ingredients to the shoppinglist using the … menu, they are scaled according to the chosen no of persons.
Note: You can enter decimal persons on recipes or meal plans to scale recipes to your needs, e.g. 1.5 if you are one adult and one child.
Automatic scaling in meal plans
Enter your household size under household / shopping list settings (Select list, then tap pen next to shopping list name).
When you add a recipe to a date in the meal plan, the app auto sets persons based on the recipe persons field, or if persons of your household is defined, the added recipe is auto-scaled to your household size
Smart summing
When adding ingredients from meal plan, app now does "smart summing" to avoid duplicate groceries. So if you have one recipe requiring 1kg sugar and another requiring 500g sugar, you will see 1500g sugar added to your shopping list 🙂
New webapp
With version 4.12 we now launch a brand new webapp. The intention of the new webapp is to give desktop and laptop users easy access to the most current version of Grosh, e.g. for adding something to the list if you're sitting at the computer.
Other small improvements and bug fixes
Search field to filter list to only show matching names, e.g. for settings sub screens for stores, categories, units, brands, blacklisted groceries,etc
Swipe effect not visible when sync in progress
Icon badge shows bought items, not remaining items
Rename prompt now correctly marks items as blacklisted (if corrected spelling)
Scan new barcode item, adding image later does not work
Eco filtering not working
Kind regards
The Grosh Team
Update 2022-08-20 Grosh version 4.12.1 fixes a bug on the meal plan details page – thanks for reporting, Claudia 🙂
PS As always, if you have any problems or have questions about Grosh, you can always send a message straight from the app under Menu-Information-Other or send an email to support at groshapp.com