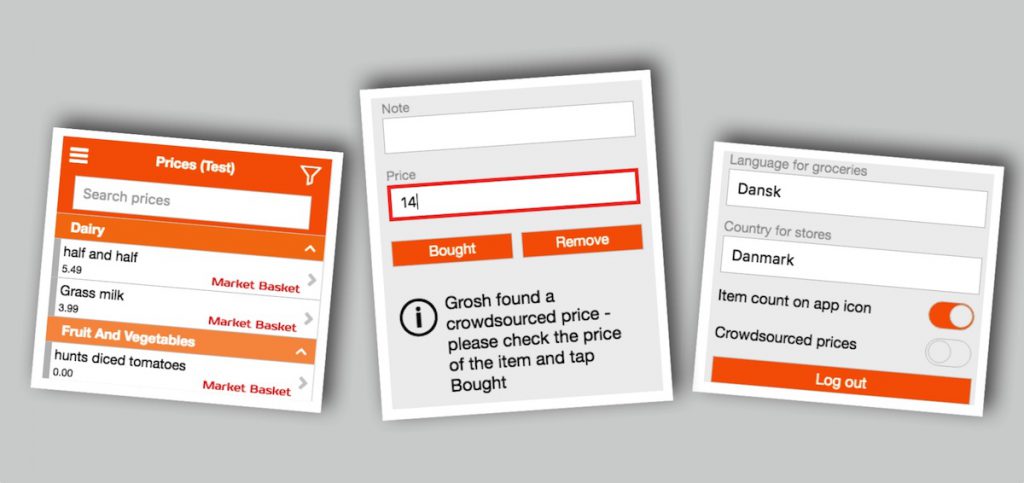 Have you ever seen an app that crowdsourced grocery prices? You probably know apps that crowdsource gas prices. This allows users to report in prices such that others can find a cheap place to fill up the car. But no such services exist for grocery prices – until now. Read more about Grosh version 1.7 that launches today!
Why crowdsourced grocery prices?
Grosh is the only self-learning grocery app on the market. It crowdsources its knowledge of grocery names, their category, their placement in stores, where stores are located etc using clever crowdsourcing algorithms.
We've been looking for a while at letting retailers publish their prices in Grosh. However, this has turned out to be harder to get off the ground than anticipated. After suggestions by several users, we've now tried to incorporate prices from another source – our users!
Our intention by providing price information is obviously to help users save money. For now, there's a new place in the app to browse, search and filter prices – but more clever functions will come along the way!
Easy to add prices
Grosh now remembers price like it previously did for last used store name and quantity. This means that the next time you add an item, the last price given by your for a store is auto filled. Example: if you added bread lidl 1.75, and just add bread it will automatically be tagged with lidl and 1.75.
By the way, we've added a shortcut to add prices. You don't have to do it under grocery details, but can add it when adding items to the list. Just append the price to the item, e.g. "bread lidl 1.75" or just "bread 1.75".
How the crowdsourcing works
There's no particular new functions, crowdsourced grocery price collection just happens on the fly. But first you should opt in to crowdsourced grocery prices under Settings, then price crowdsourcing will happen automatically for all lists using grocery categories.
When you swipe a grocery item at a location known by Grosh to be a store, you might be prompted to enter the price of an item.
Grosh looks at the price of an item you want to buy and only pops up the grocery price entry screen if no value was given by you. If it finds a crowdsourced grocery price, it will also show you the price entry screen to allow you to verify the price before tapping Buy. The info text at the bottom explains the situation.
NOTE: You can dismiss the price entry prompt by tapping Buy one extra time (you record the purchase without a price).
How to access prices
When you participate in grocery price crowdsourcing, you can also browse prices collected by all users in your country split into the normal grocery categories. Groceries have a store tag and a price. Tap the store tag to only see prices for that store, like on the grocery list. Enter text at the top to search the prices. Tap the filter icon top right to only show prices related to the items currently on your shopping list. When filtered, swipe price items to apply store tag/price to your shopping list. When swiping an unfiltered list, new items are created on your shopping list, again with the store and price tagged. Try it out, we hope it makes sense!
Improved filtering
Based on user feedback, we've changed how filtering of the shopping list works. It now shows all-non tagged items plus items marked for particular store. This allows you to see all items relevant to a store and items relevant to all stores, making it easier to get an overview of what you should buy at a store without toggling filters back and forth.
More fine grained categories
Another user wish included in this version is the extended grocery categories. The base set of categories has been expanded into the following set:
Dairy
Grains, Pasta & Rice – renamed, was misc. "groceries" before
Bakery – NEW
Meat and fish
Fruit and vegetables
Frozen Food
Spreads
Beverages
Coffee & Tea – NEW
Wine, Beer & Spirits – NEW
Snacks & candy
Personal care
Household
Breakfast & Cereals – NEW
Sauces & Condiments – NEW
Canned food – NEW
Deli – NEW
Pets – NEW
Baby – NEW
Other
We've moved some groceries in the standard grocery dictionary to use the new grocery categories, but a lot of groceries still need to change category. This will happen on the fly over the next weeks, as Grosh learns by what the users choose.
The new categories also means that sorting in the stores will be affected. The new categories will not come into effect until a substantial number of shopping trips have been performed at a store. Until then, the items using the new categories will be in the middle of the sorted grocery list.
NOTE: You need to restart the app to see the new categories (which should happen automatically when installing the updated version of the app).
Other changes
We've ironed out a few issues too. Renamed groceres now keeps category selection, dictating a grocery on iOS now converts the quantity from text to number (try five milk), and the suggestions light bulb should now be visible more consistently.
At the same time we introduce crowdsourced grocery prices, we end the trial we've been running with price data from retailers. We hope this might come back later in another form.
Please send us your inputs so we know what you would like us to improve 🙂
Kind regards
The Grosh Team