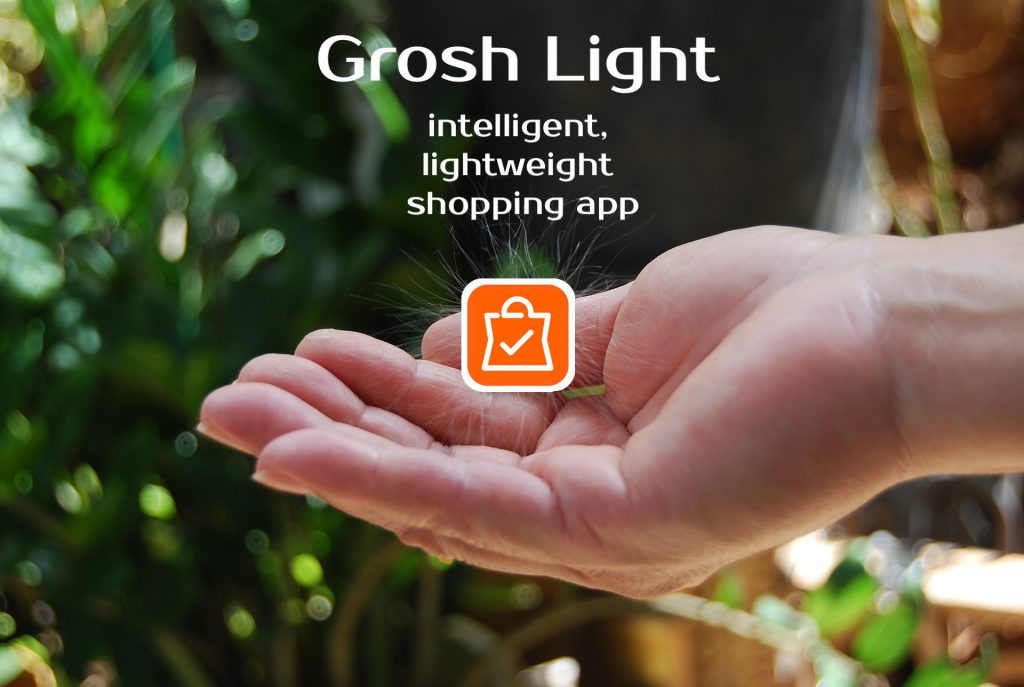 Today we launch Grosh Light – a lightweight version of the classic Grosh intelligent shopping list app. It's based on newer faster technology and has a slimmer feature set. Read all about it below.
Technology update
As you may know, we started developing Grosh 5 years ago. Our classic app is based on technology that was starting to show its age and especially on Android we've seen various limitations that only a complete re-write would solve. At the end of 2019, we started the work on the next generation of Grosh. A month ago, we sneak-launched Grosh in the form of our wish list app Fromto (that is based on Grosh) and now we're ready with various additional features that make up our new lightweight shopping list app.
Design Goals
When building Grosh again, we had some goals set up:
Start with the core features
The user experience should be similar
Make the "offline" mode default – totally removing network dependency, but allowing you to sync your list when you want
Use a newer tech platform to fix various issues
Introduce new subtle features we could not easily make on the old platform
What is included in Grosh Light?
Check out Grosh Light product page to learn exactly what the lightweight shopping app can do. But in short, it's got the same intelligent self-learning algorithms as the classic Grosh app. You have a list of currently needed items, that you can swipe out when you go shopping. The app groups and stores your purchases, and based on pattern analysis of your purchase history, the app can predict what you might have forgotten to put on your shopping list. This is what makes Grosh unique and why you should be using it to save trips to the supermarket. Especially in these Corona times.
Existing Grosh users
For existing Grosh users, Grosh Light should be quite familiar and it should cover 80% of your Grosh usage. For the rest, you can still have the old Grosh on your phone or use the webapp available here on the website (tap Login top right) to e.g. get insights on your shopping habits, manage recipes, follow users & get inspiration, do meal plans, check crowdsourced prices, etc etc. Most of these functions will be included when we relaunch the full app 🙂 But instead of waiting to launch the full Grosh, we decided to release it early to give value to all the users out there who actually don't use the full app. Hence Grosh Light!
NOTE: You will need to login again with the new app. The app will store your credentials, so logging in again is simple. If you forgot your username/password, you can do a password reset as in the old app. There's no longer Facebook login, so if you used that in the past, you need to do a password reset.
New features & fixes compared to classic Grosh
You can work completely offline on your shopping list, e.g. when entering a underground grocery store.
Syncing – the app syncs with the servers when you bring it to the foreground or starting it up. If you do changes to the list, you can at any time pull down the list (place finger on the list and move it down and then release the finger) to sync the list with the servers again. A refresh symbol is shown top right when your list needs syncing.
Pull-to-refresh on the shopping list will sync your list modifications with the Grosh servers and thus other users, so new items may also appear on your list when syncing
Long press barcode button – if you have problems scanning a barcode, you can now long press the scan button to the right of the "add items" text field to open a window to enter the barcode number. If Grosh can find the barcode number in its database built by other Grosh users or the public Open Food Facts database, you will not need to enter product name on the list.
Register stores for a membership card (Settings – Memberships). You can now select a number of stores that the membership card applies to. This means that a card icon will automatically appear top right in the app when shopping in a store related to the membership. Tap the icon to display the scanned membership card. Clever, eh?
New total line – shows total no of items and price, and now also lets you follow how much you have shopped for (seen during shopping trips). If you turn on price crowdsourcing under Settings, you will be reminded to register prices for items you buy, making it possible to know exactly what you've shopped for on your shopping trip so far. Good if you're on a strict budget!
You can now have lists with thousands of items, which is handy if you have large stock or collection lists
New favourite (heart) button next to store field for simple selection of often-used stores
On lists with own categories (Collector or stock lists) you can now type in new category names in the category AutoComplete field – or easily acces categories using the favourite button
Tap edit fields with autocomplete values will scroll up screen, making room for the autocomplete choices
Various styling improvements, eg making more screens compact
Fixes compared to classic Grosh
No blank grocery list lines or areas on the screen (seen on iOS)
Keyboard always appear when you want it to (seen on Android X)
Better performance on older Androids
Availability
The new version is available on Android at first, then on iOS – just tap the download links at the top of our Grosh Light product page. Our old app will continue to serve as our webapp. You can find the Grosh webapp by tapping LOGIN top right on this screen.
Kind regards
The Grosh Team
PS If you run into any problems or have questions about Grosh Light, you can always send a message to support at groshapp.com