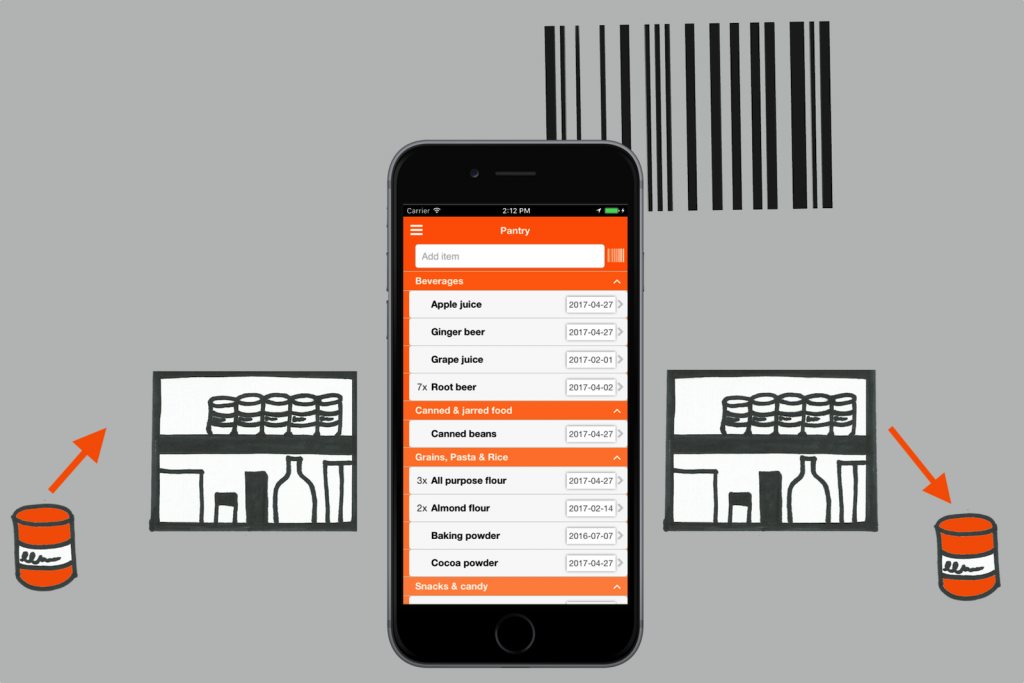 Ever wondered why no grocery shopping apps seem to have stock control integrated with the shopping list? Stock management of your pantry, freezer etc. is now possible using Grosh Premium. Grosh helps you know what's on stock and to avoid overdue items and double purchases.
User driven development
Several Grosh users have been using the app for making stock lists for books, frozen food and lots of other things. We've been in discussion with them and come up with some improvements when using Grosh for stock lists. The main idea is not to have totally independent lists, but to have a stock list that integrates with your shopping list.
Who can use stock lists?
When creating new lists, there's now a type called "stock list". Creating a stock list requires that the person has a Premium subscription – other users of the list do not need this and can use the free version to access and modify the list.
Stock list functions
With a few twists of the existing grocery list functionality, we believe we've improved using Grosh for stock lists significantly. The changes include
Recording date when items are added to the stock
Showing item date clearly on the stock list
Suggestion screen indicate what should be taken from stock
Swipe of item no longer means "purchased item" but "consumed one item"
Automated creation of shopping list item when last item taken from stock list
Barcode scan can also for be used for consuming items
All other functionality is identical to normal Grosh shopping lists, so you can enter item details on a list, share the list and users, check history etc.
Avoid food waste
The suggestion screen for a stock list shows the oldest products within each category first so that you don't overlook products which are getting old. Items more than 6 months are also coloured red!
Avoid running out of stock
When you mark the last item of something as Consumed, Grosh automatically prompts if you want to replenish. Grosh asks which shopping list to add the grocery to and will remember this selection.
Registering your current stock made easy
To simplify registration we've added a category and amount selector when adding items to your stock. If you scan a barcode and Grosh does not know the name of the item, you can with one screen enter the name, category and amount. Grosh also remembers the last selected category, so we suggest you enter your stock category by category.
Decreasing stock made easy
When you scan a barcode on the stock list and there's items with that barcode currently on stock, Grosh allows you to either decrease current stock or register that you add new items. If there's multiple items on stock with different dates, Grosh will make you aware of this. If you're not using barcode scan to decrease the stock, you can just swipe once on the list to decrease the storage count by 1.
Example
Here's a typical scenario, managing your pantry: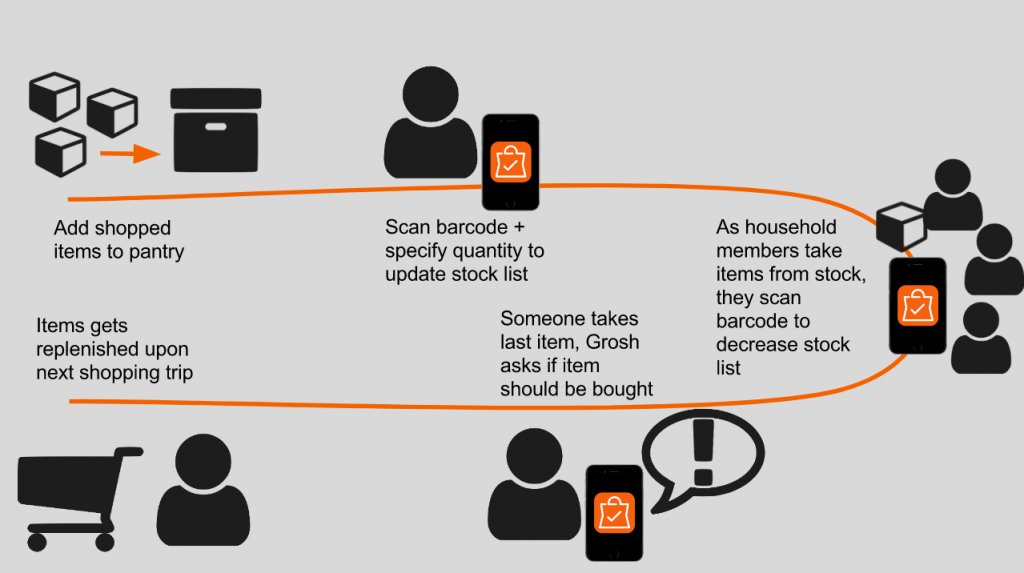 The steps:
You're adding some items to the pantry.
Use Grosh barcode scanner to update the stock list.
Over a period, members of the household take items from the pantry and decrease the item count in Grosh using the barcode scanner.
Someone takes the last item of a grocery. Grosh alerts the person of this and lets the person add the item to the shopping list.
The pantry gets replenished the next time someone goes shopping with Grosh!
We hope you like the improvements. If you're one of the many users who've already been using Grosh for stock lists, there's some help to you: You can convert an existing list into a stock list. Goto Settings and tap the list – then select "stock list" as type and tap Save.
We've got plans to extend our stock list concept over time, but we're launching the stock list management as described above to let you all try it out. So please give us your feedback!
Kind regards
The Grosh Team