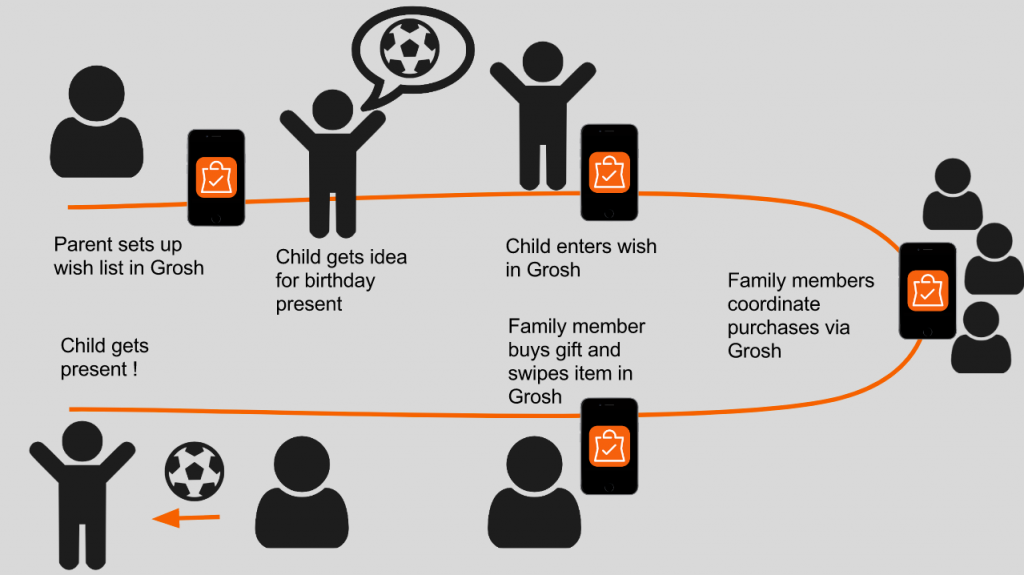 Ever wondered why shopping apps don't have an integrated wish list to help you remember buying presents when you're out shopping? Check out Grosh Premium – a new clever way to get coordinate gifts with friends and family.
Only daily shopping app with integrated wish list
There's no other wish list app on the market that integrates wish lists with everyday shopping like Grosh does. Current shopping apps focus on shopping for the household, but not for others. But in real life, when you're out shopping for your household, you might as well pick up things for others.
The benefit of using Grosh for your wish list
You could use a dedicated wish list app, but using Grosh for wish lists is clever, because thousands of people already have Grosh installed for their daily shopping. This makes it easy for them to access the wish list and thus coordinate purchases with the other members of the wish list.
User driven development
Grosh users have provided us valuable feedback on how they use our product. We work from there to create a product that provides an even better user experience. Several Grosh users have been using the app for making wish lists for Christmas, birthdays, weddings etc. We've decided to extend Grosh with additional functionality to better support wish lists and have indeed introduced a new list type called "wish list".
Who can use wish lists?
Creating a new list of type "wish list" requires that the person has a Premium subscription – other users accessing the list do not need to be premium users and can use the free version.
Wish list functions
With a few twists of the existing grocery list functionality, we believe we've improved using Grosh for wish lists significantly. The changes include
Adding extra fields for From + To to items on a list
Grouping items on the list according to recipient (To)
Not hiding purchased items, so everyone can see the full wish list (we keep them for 2 months after purchase)
Don't show assignment of purchase (responsible person) and purchase status for an item on the list to the recipient
Locking mechanism for indicating a wish is "ready"
All other functionality is identical to normal Grosh shopping lists, so you can enter item details on a list, share the list, users can swipe to indicate an item has been bought, etc.
Example
A typical use case is a child's birthday as also shown on the flowchart above:
A parent sets up a birthday wish list for the family. This involves creating the wish list and sharing it with members of the family.
A child with an upcoming birthday gets an idea for a birthday present.
The child records the wish in the wish list with name and perhaps a URL in the note field indicating where the item can be bought. The child finally chooses himself/herself as recipient in the To field – this last step indicates that the wish is ready and can be purchased by others with access to the list.
Other family members coordinate the purchase by looking at wishes in the app. A family member interested in buying a particular item assigns himself using the From field in the app – indicating to others that they should not buy this item. Of course, the recipient cannot see this.
The responsible person buys the gift and swipes it in Grosh, indicating to other family members that the purchase has been made. If responsible person was not set perform the purchase, it's automatically done so. Of course, the recipient cannot see none of this.
Childs birthday: child does not get any duplicate gifts. Thanks Grosh!
We hope you like the improvements. If you're one of the many users who've already been using Grosh for wish lists, there's some help to you: You can convert an existing list into a wish list. Goto Settings and tap the list – then select "wish list" as type and tap Save.
PS We've also added a restriction, so only the creator of the list can change properties for a list (as changing name or type from e.g. wish list back to a normal list – which will result in data loss).
Kind regards
The Grosh Team