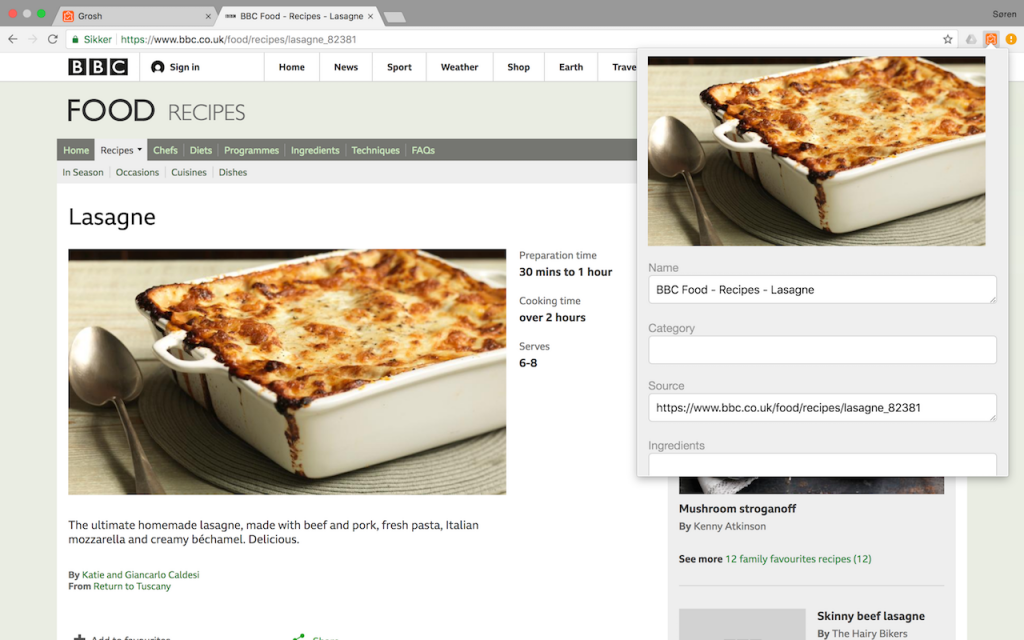 Have you ever found a delicious looking recipe online, and when you wanted to try it out you couldn't remember where it was? From today, cooking gets easier with the free Grosh extension for Google Chrome. It lets you collect recipes in Grosh – the intelligent grocery shopping app. Learn how to become more organized with your recipe collection!

Organize your recipes
With Grosh, you could previously already type in your own recipes that you had lying around in paper format. Our users particularly like this feature and report this is great – they always have access to favourite family recipes from any device. Of course, the recipes can also easily be shared with friends and family too.
Organize recipes you find on the Internet
Grosh users have asked us If we could allow them to easily bookmark recipes they found online. Our solution is quite simple: a toolbar button that requires no changes to the website, so that you can start bookmarking favourite recipes from today!
To bookmark a recipe you've found, just highlight the ingredients and tap the Grosh icon located in the Chrome toolbar and choose "Bookmark recipe". The button does absolutely nothing before you press it – hence it does no tracking of what you do on the Internet – unlike "like" buttons used by other social networks 🙁 Then you login to your free Grosh account and review the information to be bookmarked in Grosh. After that you can chose to store the recipe in your account – and access it from any device where you've got the Grosh app 🙂
How to get started
You need a free Grosh account to get started. It allows you to store recipes and shopping lists and keep them synced across multiple devices. Signup either using your web browser at groshapp.com (tap "login" in the top right corner) or by downloading the Grosh app from Appstore or Google Play.
How to install
We've released the Grosh extension for Chrome in the Chrome webshop, so just head over to it and search for "Grosh" or use this link to download it:
https://chrome.google.com/webstore/detail/grosh-extension-for-chrom/fppodfcakahepmmcmhndjbfpidocmjdk
Bonus – save products to shopping list
We've seen that our users are also using Grosh to store things they find on the Internet and intend to buy later on. Find a webpage with a good offer, then tap the Grosh button and tap "Add item". Grosh shows you a form filled in with information from the webpage ready to be saved in a Grosh shopping list 🙂
We hope you like this new Grosh add-on product. It is free to use for all Grosh account holders. And it's tracking free and has no ads 🙂
Kind regards
The Grosh Team