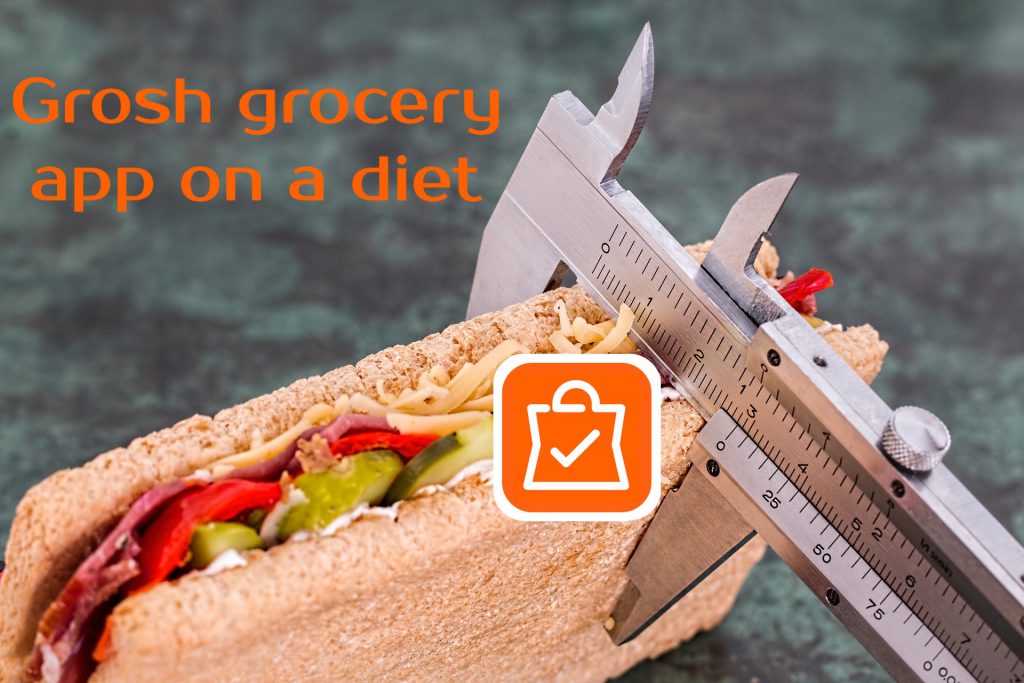 Today we launch the next generation of Grosh – the intelligent grocery app. It's based on newer faster technology and has been on a diet to shed unused features – but of course it retains the important core functionalities from classic Grosh app. Read all about it below.
Technology Update
As you may know, we started developing Grosh 5 years ago. Our classic app is based on technology that was starting to show its age and especially on Android we've seen various limitations that only a complete re-write would solve. At the end of 2019, we started the work on the next generation of Grosh. This summer, we sneak-launched Grosh in the form of Grosh Light, a lightweight version of Grosh. Now we're ready with additional features in order to replace the classic, full Grosh app.
Design Goals
When building Grosh again, we had some goals set up:
Minimize risk, start with the core features, then extend with additional features
The user experience should be similar
Make the "offline" mode default – totally removing network dependency, but allowing you to sync your list when you want
Use newer technology to fix various issues
Introduce new subtle features we could not easily make with the old technology
What's in Grosh Next Generation ?
In short, it's got the same intelligent self-learning shopping list as the classic Grosh app. You have a list of currently needed items, that you can swipe out when you go shopping. The app groups and stores your purchases in your history. Based on pattern analysis of your purchase history, the app can after just a few weeks predict what you need to shop. This is what makes Grosh unique and why you should be using it to save trips to the supermarket. Especially in these Corona times.
On top of this, you get the access to the social food network of Grosh. This lets you store your favourite recipes in the app. If you make your recipes public, this makes it possible for others to find them. You can also follow other users to see which recipes they publish. So invite your friends and family to use Grosh, then you can get more inspiration in your everyday cooking 🙂
Existing Grosh users
Important stuff for existing Grosh users to note when you're upgrading to Grosh 4.1:
You must log in again in the new app. The app will remember your credentials, so it's only just after updating you have a bit of hazzle.
If you previously used Facebook for login, you need to reset your password first.
If you can't remember your password, you also need to reset your password first.
If you're a premium user, you may be prompted to login to your Apple or Google account in order for the app to restore your Premium purchase
Forgotten the email your existing Grosh account? If you've forgotten which email you signed up, e.g. because you used Facebook login, you may want to head over to the webapp available at groshapp.com (tap Login top right). If you're still logged in there or can log in with Facebook, you can see the email for your account on the Settings page.
Changes to the Shopping list
You can work completely offline on your shopping list, e.g. when entering a underground grocery store.
Syncing – the app syncs with the servers when you bring it to the foreground or starting it up. If you do changes to the list, you can at any time pull down the list (place finger on the list and move it down and then release the finger) to sync the list with the servers again. A refresh symbol is shown top right when your list needs syncing.
Pull-to-refresh on the shopping list will sync your list modifications with the Grosh servers and thus other users, so new items may also appear on your list when syncing
Long press barcode button – if you have problems scanning a barcode, you can now long press the scan button to the right of the "add items" text field to open a window to enter the barcode number. If Grosh can find the barcode number in its database built by other Grosh users or the public Open Food Facts database, you will not need to enter product name on the list.
Register stores for a membership card (Settings – Memberships). You can now select a number of stores that the membership card applies to. This means that a card icon will automatically appear top right in the app when shopping in a store related to the membership. Tap the icon to display the scanned membership card. Clever, eh?
New total line – shows total no of items and price, and now also lets you follow how much you have shopped for (seen during shopping trips). If you turn on price crowdsourcing under Settings, you will be reminded to register prices for items you buy, making it possible to know exactly what you've shopped for on your shopping trip so far. Good if you're on a strict budget!
You can now have lists with thousands of items, which is handy if you have large stock or collection lists
New favourite (heart) button next to store field for simple selection of often-used stores
On lists with own categories (Collector or stock lists) you can now type in new category names in the category AutoComplete field – or easily acces categories using the favourite button
Tap edit fields with autocomplete values will scroll up screen, making place for the autocomplete choices
Add new item: Before you added a new item by typing at the top, now you can also tap the floating + button to add an item. Helpfull when you want to set more fields (without relying on our text parser that actually will pick out brands, store names, prices etc)
Images: If an item has note with a website link, the image menu lets you scan website for images. Bullets along the bottom will indicate there are several images you can use on your shopping list, and just swipe between them to choose the image to your for your shopping list item.
Changes to recipe functionality
Recipe tags: Instead of having 6 hardcoded diet types (covering the big 4 allergies + vegan and vegetarian diets), you can now add your own tags to recipes, and search for recipes with tags, eg Vegetarian. The system comes with 6 tags based on the old diets – but the idea is that tags will become global as more people use the same tags (like categories, store names etc).
Recipe tab filtering: In the recipe tab, tap the filter icon to choose a recipe tag to filter the view. In addition you can still search in recipe titles within the selected recipe tag(s).
Persons: You now have a separate field for entering how many the recipe will feed.
Removed functionality
Some functionality have not made it into the new app:
Map of nearby stores: We've had data quality problems, so we decided to scrap this screen until we have a better feed of store locations.
Crowdsourced price overview. The overview is now gone, however, you can use turn on price crowdsourcing under Settings. This lets you actively register prices during shopping and also see the last seen price assigned at the store for the item by you or others. With the new Total line and Price crowdsourcing, you have the perfect tool for tracking how much you're shopping for.
Benefits overview. It's now gone, as no membership clubs have officially joined up so far. Might be back later if we get partners on board for this.
Local offers and submitting orders: The marketplace functionality never took off, so it's been scrapped until we get partners on board for this.
Insights: The graphs showing your personal performance in shopping. We need to rethink this, as you need something to compare with to make it interesting to see.
Note: You can still access the "old functions" from the webapp, if you wish to do so.
Notable bug fixes
No blank grocery list lines or areas on the screen (seen on iOS)
Keyboard always appear when you want it to (seen on Android X)
Do you have ideas for Grosh Light ?
Grosh Light is also available in version 4.1. Going forward, Grosh Light may be phased out as it is basically just the full Grosh, but without recipe support. Or we might be re-thinking Grosh Light to be even more simple to use, maybe for kids or the elderly. Feel free to send us your suggestions on what we should change to make it even simpler and more easy to use!
Future of the web app
The new version only applies to Android and iOS, but our old app will continue to serve as our webapp. You can find the Grosh web app by tapping LOGIN top right on this website.
Kind regards
The Grosh Team
PS If you run into any problems or have questions about Grosh, you can always send a message to support at groshapp.com