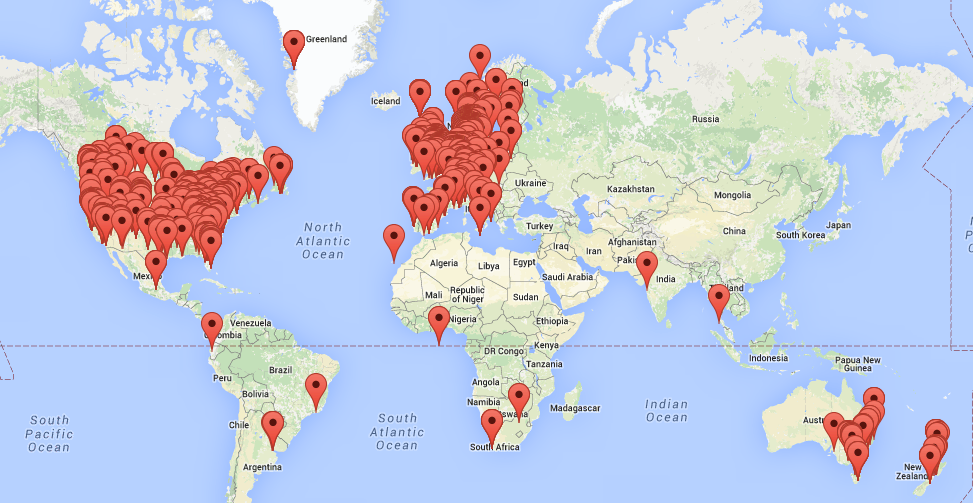 Grosh is the only globally oriented grocery shopping app, and based on user requests we continue to expand our support for new countries. Read more about the latest additions below.
What's Grosh?
As more and more consumers are discovering the advantages of electronic shopping lists, Grosh has appeared as the new player in this category. It tries to do much more than just put power to the paper, it learns from your habits and is able to make intelligent shopping suggestions – and of course all in your own language!
Grosh users across the world
The map above shows cities where Grosh has been used for grocery shopping until now, the top 5 countries being Canada, Denmark, Germany, Great Britain and USA. Grosh has been visiting some countries where it's not even launched yet, as our users bring their favourite app when shopping on their holiday 🙂
Co-creation with our users
About a week ago, we were approached by several independent persons from the Baltic states, so we decided to include support for these countries next. Our newly found Baltic friends have been kind to help with the translation, so it's been quick and easy to support the new countries for us.
Launches in Baltic countries today
Today, we have loaded translations for groceries, food categories, retailer lists etc. on our servers and pushed Grosh, the intelligent grocery app, into the Appstore and Google Play stores in Estonia, Latvia and Lithuania 🙂
Like no other grocery app
When we ship Grosh in a new country, it comes with a dictionary of normal groceries, popular stores etc – but the real strength of Grosh is the clever crowdsourcing per language of grocery names, categorization, stores and their location. The location is used to build up a model of the store interior, so we can sort your list in the right order depending on which store you're in. Our Grosh servers crunch big data every day to make the system smarter – Grosh is like no other grocery app on the market!
Give this post a like on social media using the buttons below, if you think Grosh is clever, want to help spread the app, and thereby also help us continue developing the best grocery app.
Kind regards
The Grosh Team